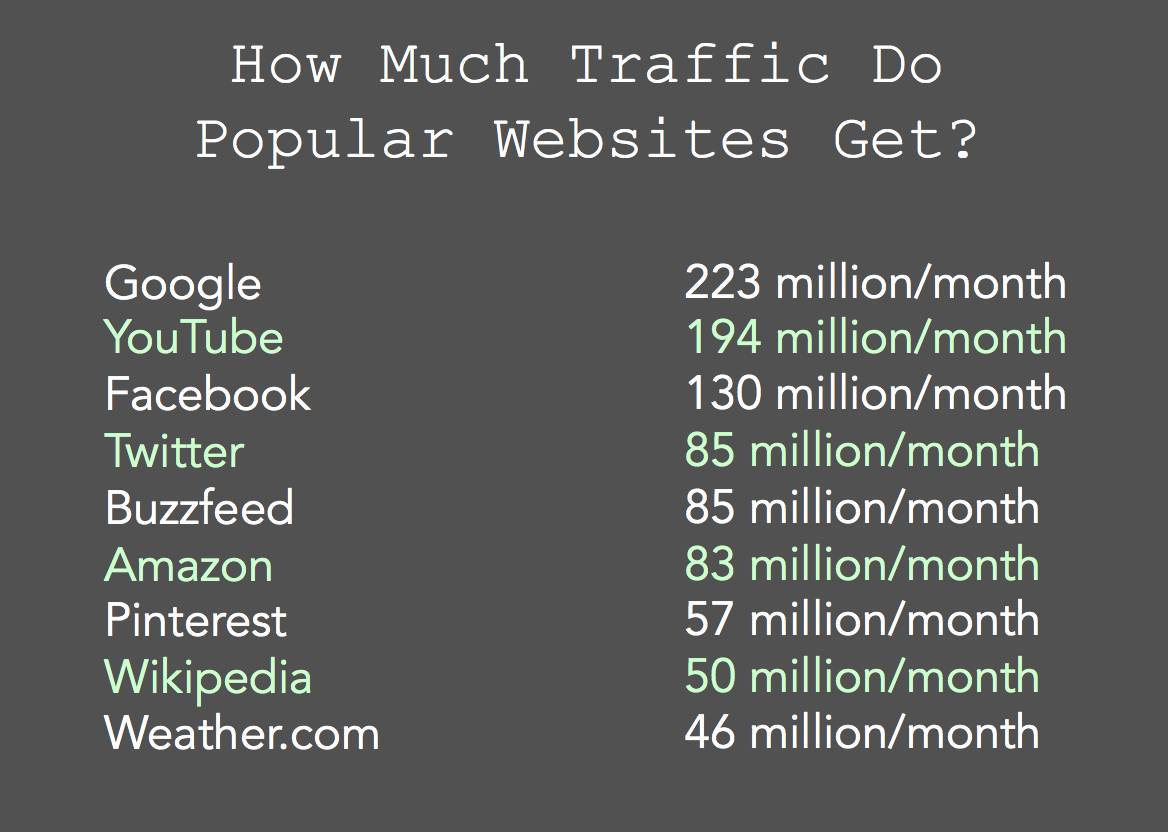 I call it the "Do you know what you're doing?" factor.
That means that if you have no idea what you're doing or how to blog as a business, you could have hundreds of thousands of pageviews a month and be making just a few hundred dollars a month.
On the opposite spectrum, if you're very experienced and know exactly what you're doing… You could have 50,000 pageviews a month and be making $10,000/month from blogging easily. There's even a cheat sheet called The First 10 Steps to a Profitable Blog that walks you through the things you have to get right in order to actually make money at this. You can get that cheat sheet for free here.
The truth is, it's not the pageviews that matter, it's how you use them. But there's a minimum number of pageviews where you should absolutely be earning a full time income (hold on…. we're getting to that!)
The variables that affect how many pageviews you need to make money.
How many of those questions you answered yes to determine how much income you can make from the pageviews that you have. The fact of the matter is that someone can make $5,000/mo with about 30,000 pageviews a month while someone else struggles making $500/month with 200,000 pageviews.
That doesn't mean that the second you hit that 100,000/month pageview mark that someone will send you a check. It means that if you're already at 100,000/month and you're not pulling in full-time income then you're doing something wrong (which is pretty common and isn't a testament to your business sense or character at all).
That being said, if you have less than 100,000 pageviews and more than 30,000 pageviews a month, it's possible to pull in full-time income from blogging if you really know what you're doing.
How Many Page Views Should My Blog Get?
The number of pageviews your blog gets really depends on many things: your topic, your skill and knowledge, how long you've been blogging, how active you are on social media, how good you are at SEO and digital marketing, how competitive your niche is, and what the goals of your site really are.
It's hard to find concrete pageview stats for blogs because people tend to not want to report those if they're unimpressive. Still, here is a completely random smattering of self-reported pageview numbers from various bloggers around the web:
An informal study done by Blogelina in 2010 (so take it with a grain of salt. I'll explain why later) of 20 bloggers found the average number of monthly page views to be around 4000, which comes to around 130 per day.
If you're not getting at least 250 unique visitors (per day) by the end of the first calendar year then there is something significantly wrong with how you're executing on your content, strategy, and brand.
If you're getting triple digit pageviews per month, push yourself to break 1000. If you're getting 1000, see if you can crack 2000. Try to get yourself into the next tier. Not by scheming and spamming social media or buying traffic, but by tirelessly improving your blog:
Don't worry if you're not stacking up to benchmarks or other self-reported pageview counts from bloggers like yourself. You're not in trouble until you become too lazy to change strategies and you start to see your traffic plateau.
How Much Blog Traffic Do I Need to Make Ad Money?
When you have built up enough traffic (from 10,000 to 25,000 pageviews per month), you can start applying to premium ad networks like Ezoic, MediaVine, and AdThrive (at 100k). They offer unbelievable RPMs (revenue per mille, or thousand visitors) — upwards of $12 in many cases.
The easiest and most common way to sell ads on your blog is through Google's AdSense, where you earn 68% of the revenue generated through ads on your site. Revenue here is usually calculated on a CPM basis, or Cost Per Thousand Impressions. Meaning, advertisers pay a certain amount every time 1000 people see their ad. Got it?
According to Monetize Pros, CPMs vary depending on industry, competition, and some other things. The post behind that link has some really interesting benchmark info about CPM benchmarks. But, generally, CPM should be somewhere between 800 and $3, excluding some super high value verticals.
$2000 might sound pretty good ($160 a month or so), but there are costs. Time spent optimizing your ad placement. Negative impact on your content and the user experience of your site.
And beyond that, it takes a long time, and a LOT of work to get to the 1000 pageview per day level. Oh, sure, a lot of prominent bloggers will make it sound easy ("Just write 100 blog posts that each get 100 uniques a day!").
That way, when you have something to sell beyond just your pageviews, your blog works as the content marketing arm of your business. You can keep it stripped down, focus on creating great content that provides proof points for your expertise, and sell something a little more high margin than CPM ads.
Also, if you put in the work to establish authority in your niche, you may be able to start doing paid freelance writing around your topic for other publishers. Chelsea Fagan touches on this in her post, "A Brutally Honest Breakdown of How I Make Money as a Blogger".
And finally, a lot of bloggers have a ton of success with affiliate links and programs. Again, these allow you to keep your website clean and free of ads while you focus on building a loyal audience that trusts your opinion.
TL;DR — If you want to make money from your blog, you'll need to either compile a crap ton of pageviews (and I mean a CRAP ton), or you'll need to really dig deep and figure out how you can turn your brand and expertise into a valuable product, with your blog serving as your content marketing department.
3) Get at Least 11% of Traffic from Organic Search
Across all of the blogs we analyzed (including older, more established blogs), we found that organic search was the biggest source of traffic: 59.22% of all blog traffic came from search. But crucially, blogs with fewer than 10,000 monthly pageviews differed in two ways:
Traffic from social and email remained relatively constant—and inconsequential—across all blogs we analyzed, accounting for roughly 2% and 3% of total traffic, respectively:
You probably recognize this finding from your own performance data. Without much in the way of brand recognition, backlinks, or referring domains, it's difficult to outrank more established blogs. All but the lowest competition keywords are—for now—out of reach, and until they've strengthened their domain authority, younger, newer blogs usually struggle to generate substantial organic traffic.
4) Grow Your Organic Traffic by 8% Each Month
Thankfully, our data shows that this doesn't remain a problem for long. With each additional article published and backlink acquired, it becomes a little easier for new blogs to compete for keywords and drive organic traffic. In the 12-month period we analyzed, it was the smallest blogs that saw the greatest rate of organic growth: 8.13% CMGR.
This is equivalent to a blog starting out at 500 monthly organic pageviews and finishing the year at 1,181—a 136.2% increase, more than doubling monthly organic traffic in a year.
According to our data, in your first year, organic traffic should be your fastest-growing source of traffic. The best way to help accelerate this curve is to focus on long-tail keywords. We recommend a "bottom-up" approach for newer blogs: start by targeting low-competition, low-volume keywords, and gradually build up to higher-competition, higher-volume terms.
Source:
https://www.busybudgeter.com/how-many-pageviews-do-you-need-to-make-money-blogging/
https://wordsbyevanporter.com/everything-about-pageviews/
https://www.animalz.co/blog/traffic-goals-for-small-blogs/